Men's Championship Triples Winners
Details
The final of the Men's Champ Triples was played on Sunday with Allan Brider (s), Gareth Evans and Dave Carr playing a hard-fought match against Sy Baker (s), Rob Veale and Chris Hueston. Sy's team managed to hold out for a 15-13 win. For Sy and Chris this was a repeat performance - having won last year's triples event (with Lachlan Gordon). Here are some shots of the final.
Men's and Women's Graded Fours Results
Details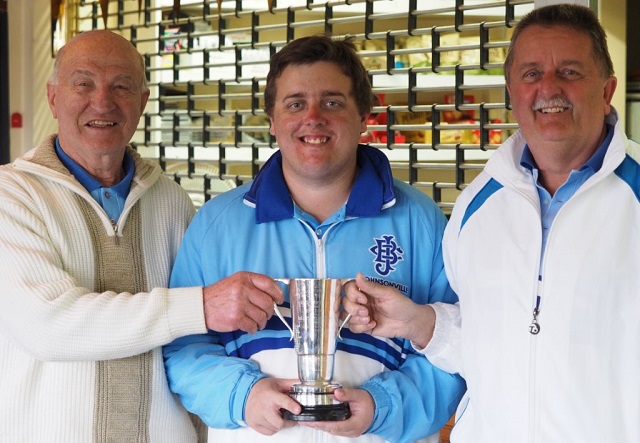 The winning women's team was Annette Dodd (s), Pat Maddocks, Beth Newman and Merani Davis, and the men Rob Ashton (s), Ernst Schuch, Logan Amer and Steve Kerekes. Some winning team members left the club before we could capture their photos - so no winners' pose by Annette's team.
Symes Family Trophy Results
Details
The Symes Family Trophy was played on Saturday 23rd September and was rewarded with a good turnout of players.
We had eight teams and although the weather was a little variable, everyone enjoyed the day and the competition was close.
Joint runners up were Keith Alexander(s), Brady Amer, Merani Davis and Brent Stubbins(s), Pearl Archer, Leon Anquetil
The overall winners on the day were (in a rare skipping moment) Gareth Evens(s), Pat Maddocks, Brent Smaill and Bill Mouat.
Peter Keen and Eric Wallis Tankard Winners
Details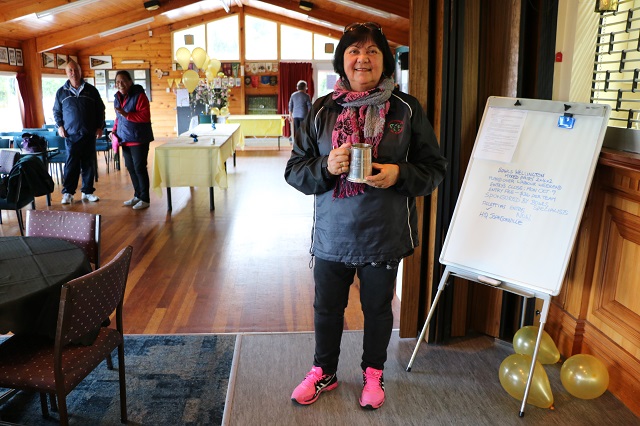 The Opening weekend has finally arrived with the first competition being the Peter Keen Memorial Trophy, played for on Sunday and won by Merani Davis, Brent Stubbins, Lil George and Sheryn Marsh (not in photo).
Also up for grabs was the much sought after Eric Wallis Tankard for the first toucher, won this year by Lil George.Congratulations to all players who braved the weather and enjoyed the beginning of the 2017-18 season.

Many thanks to all the work and dedication Brendon, Lock and the team have put into making the green look and play fantatstic as well as the surrounds which made the place feel like Wembley Stadium
Opening and Bowls NZ Club Gold Award
Details
Last night was JBC's very well attended season opening function - the official opening being declared by our Patron, Peter Dunne MP. Peter also presented former President Gerry Macgregor with his Life Membership badge. The occasion was significant for another reason - the presentation, by Bowls NZ Community Development Officer Keith Slight, of JBC's Club Check Gold Award, recognising excellence in club management.