Can you spare a couple of hours?
Calling all members who can spare a free hour to two, over the winter months to assist with a little garden tidying around the club. The
work has already started on weeding the crib wall between the greens if anybody is available during the week please pop down to the club stu is available most days to hand out tools.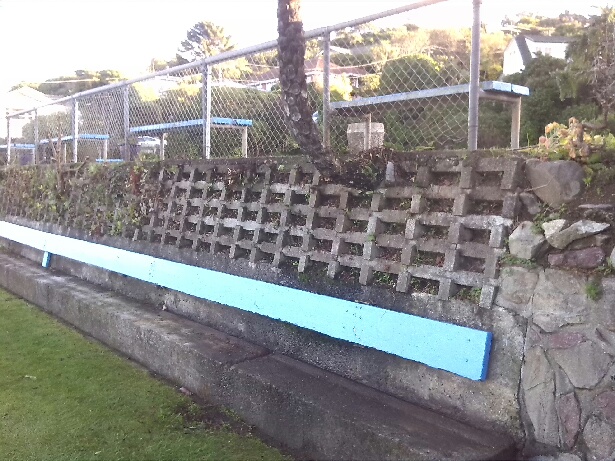 Winter Maintenance underway working Bee Sat/Sun
Thanks to all those (wasnt many) who turned out to help on the weekend, both greens have now been covered in Sand and Soil only temporarily though as the rain came in hard and fast on Sunday and Monday night and washed a lot of it away!!!!!.
After a small delay we have started the winter maintenace on the greens. So now that the green maintenance is underway we are in need of a working bee to spread soil and sand. Depending on the weather we are looking at 9am start on both days as both greens need attention.
If weather is in doubt please ring the club to confirm it is on/off. Any help would be appreciated.
Today the top green had the vertidrain applied.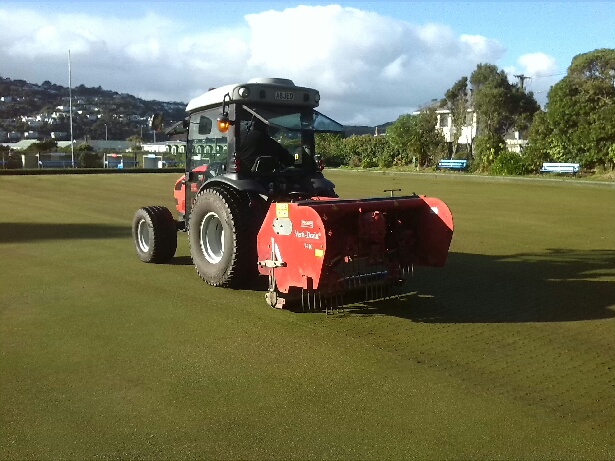 Look who is supervising......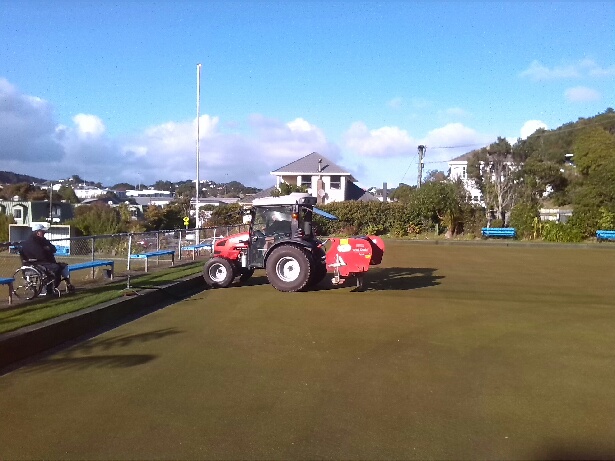 2016 Classic Invitation Triples
Organisation is well under way for the 2016 Classic Inviation Triples this weekend Saturday 30/04/2016 and Sunday 01/05/2016.
On Saturday there are three games of Triples (with each team member playing in a different position in each game) and on Sunday two games of pairs and one of singles (again with each player in a different role each game).
Play commences at 8:45 on each day.
Click on the link to see the draw 2016 Programme
The Tournament was another close battle, going in to the last round there were a few teams who needed results to go their way to make a move on the table.
Congratualtions to the overall winners: Isi Taito, Sagato Alefosio (Sa), and Brent Stubbins 14 Pts 82 Diff, runners up were Gary Reed, Brendon Gibson, Grant Wakefield 14 Pts 41 Diff. Third was Robbie Bennett, Steve Glavas, Raymond Martin on 13 Pts and 54 Pts.
Complete Results can be found here: 2016 Classic Invitation Triples Results
JBC Bowls Raffle Results
JBC Bowls Raffle Results
Sponsored By Bowlspecialists Ltd
1st: Alieta Vulu - Set of Bowls, 2nd:Wally Smith - Bowls Bag. 3rd: Owen Galbraith-Smith - Bowls Measure. 4th: Wally Smith - 2 Bottles of Wine. 5th: Bill Mouat - $25 Bar Voucher.
Congratulations to all winners.
JBC Classic Invitation Triples Tournament 2016
Photo's from the Johnsonville Classic Invitation Triples Tournament on the 30th April and 1st May 2016
(Photo's by A. galbraith)
Pathways National Club Championships
The National Club Championship Singles, Pairs, Triples and Fours is a pathway event which leads from centre level through to the national championships, allowing every day bowlers the opportunity to contest a national title.
Tournament is run over the next couple of weeks, with 2 days per discipline.
Go well Bruce Henderson, Grant Wakefield and Chris Heuston in the Triples event. Follow the progress here National Club Champs