2017 Taradale PA (Princess Alexandra) Hetero Fours
And whilst the JBC Classic Triples were being held, some of our members ventured further north for some action in the Hawkes Bay. Congratulations to Frankie, Alison, Dave H (in our jacket for those that dont recognise him) with Mark O'Brien for winning the Tournament, apparently it was because Frankie was on a go slow all weekend!!!!
2017 Classic Triples
The weather forecast for the Annual Classic Triples was showing the organising committee grief, but they stuck to their guns and by the end of the weekend the the Gala was completed without a game being missed. After day 1 their were a few teams in the running on 3 wins from 3 games, but going on previous years Day 2 is always moving day, with double points up for grabs with two games per round. Even the sun was shining, but when the last game was played it the forecast was starting to take effect. Congratulations to Robbie Bennett (Titahi Bay), Raymond Martin (Victoria), Steve Glavas (Paraparaumu Beach) who held on to the win over Johnsonville's Sy Baker, Lachlan Gordon and Chris Hueston, and third place went to Brendon Gibson, Garry Reed (Stokes Valley), Mike Thomas (Stokes Valley). Many thanks to all the JBC Organisers, Markers, Green preparation, bar staff members who helped out over the weekend. Special thanks to DIck Williams for running the event, and Kaaren Guilford for sorting food, and bar staff, no one went home dry or on a empty stomach.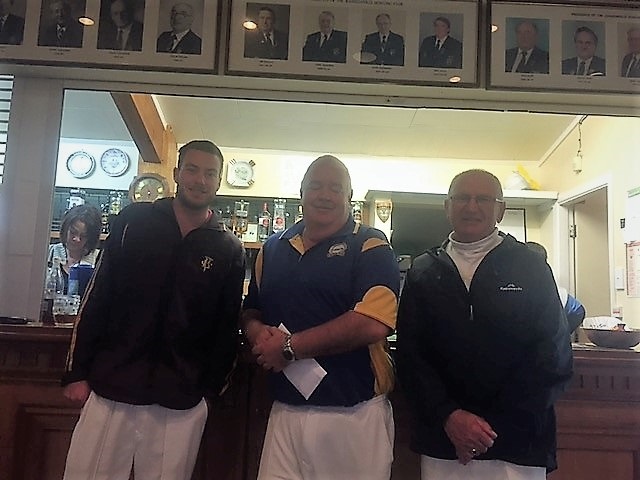 Winners of the 2017 Classic Triples, Raymond Martin, Robbie Bennett (Think he was tired), and Steve Glavas.
2017 World Masters Games Pairs
Congratulation to Rob Ashton (Johnsonville) and Petar Sain (Carlton Cornwall) for winning the World Masters Mens Pairs.


A gold medal for them both!!!!
2017 Centre Triples
Played at JBC over the weekend 22/23 February 2017 the weather Gods were with us this time, and conditions were near on perfect for both days, with the wind finally picking up on Sunday afternoon. Representaton from Johnsonville was Men: Sy Baker (s), Lachlan Gordon and Chris Hueston and the ladies Lui Hare (s), Lil George and Nicola George. In the mens tournament they started with a Bye then Played Whitby and narrowly won that round 16-15, this put them into the Quarter finals where they faced Plimmerton and won that game 21-7. On Sunday in the Semi Finals they faced a strong Victoria side and lost 21-6, well done guys. In the ladies, they werent lucky enough to escape the bye round and Played Wainuiomata and won their first game 20-10, in the second round they faced Newtown and bet them 24-13 getting them through to the quarter finals. The played Titahi Bay in the quarter finals and lost 1809, another great effort, but even with home advantage, both teams were unable to bring the trophy home, there is always next year as we say!!!!!. In the finals Men it was Victoria vs Island Bay with Island Bay winning, and the Women, Naenae vs Victoria with Naenae winning. Thanks to those who helped around the club on the weekend, it made a great spectacle for the club.
2017 Easter 2-4-2 Pairs
As posted on our club's facebook page
Congratulations to Dale Rayner and Kaaren Guilford - who won the Women's event - beating Wendy Mackie & Sue Way (Naenae) in the final. It was 5 all at the 5th but Dale and Kaaren then pulled away to win 19-9.
Special congratulations to Kaaren - this win earns her first Gold Star.
Click on this to see the facebook page for photos..
2-4-2 Gala Saturday 8th April 2017
Congratulations to Bruce Henderson and Alison Colgate for winning the 2-4-2 last weekend. The weather turned out fine and we had 15 teams (30 Players) who enjoyed a close competition, second was Grant Wakefiled and Allan Ofsoski, and Cynthia and Gareth Evans third.